Save The Date! World Book Day is Coming on Thursday 7th March!
The Definitive Guide to World Book Day Costumes
World Book Day is just around the corner, and you don't want to be buying late for this very important date!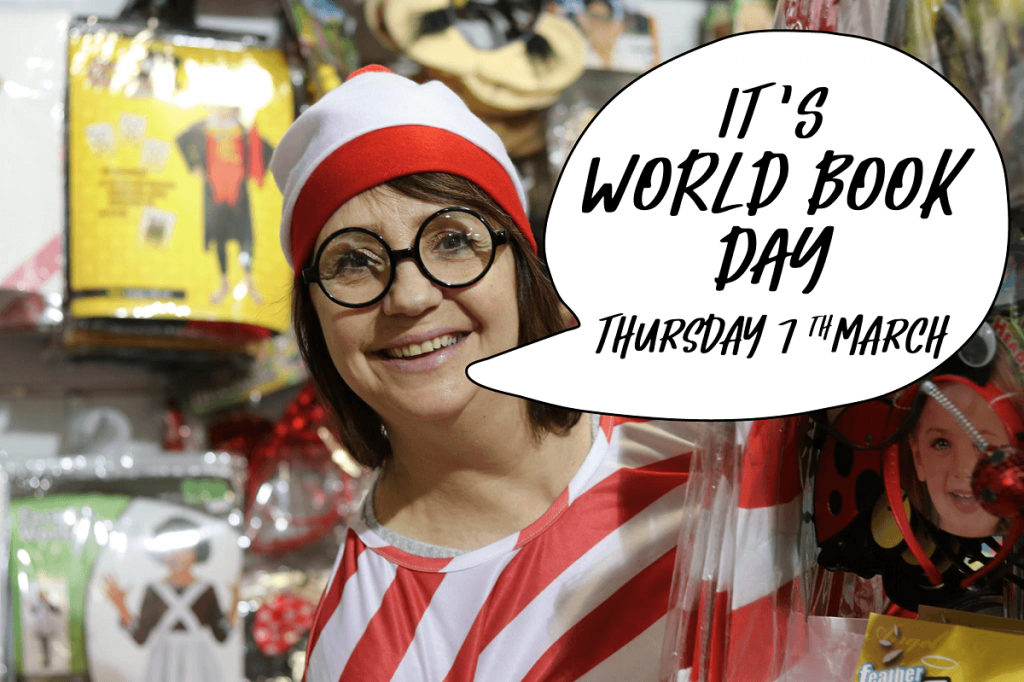 We know how difficult it can be deciding what your little one should wear, but with the help of Girlie Bits, we've complied the definitive list of costumes available to buy on Blackburn Market right now!
Girlie Bits' huge selection of costumes, accessories and custom items means your child will have a costume as unique as their character.
Girlie Bits also offer personalised services, such as printed t-shirts and tutus from £10 each.
Mandy from Girlie Bits said: "World Book Day is so much fun, but it can be a challenge to find inventive costumes for little ones and adults too. We've come up with a list of ideas to give you some inspiration. If you need help or ideas, pop along to see us, we'd be happy to help."
Take a look below at our suggestions and pop into the market this weekend!
World Book Day Favourites:
Matilda by Roald Dahl – Full costume available
Willy Wonka by Roald Dahl – Accessories available
Chocolate Factory Worker from Willy Wonka and the Chocolate Factory – Full costume available
The Witches byRoald Dahl – Accessories available
Alice in Wonderland by Lewis Carroll – Full costume and accessories available
Mad Hatter from Alice in Wonderland – Accessories including a melting clock available
Queen of Hearts from Alice in Wonderland – Full costume available
Harry Potter by J K Rowling – Socks, tie, scarf, glasses, hat and wand available
Modern Favourites:
Gangsta Granny by David Walliams – Wig and costume available
Demon Dentist by David Walliams
The Tiger Who Came to Tea by Judith Kerr – Tiger accessories and tiger tutus available
Angelina Ballerina by Katharine Holabird – Personalised tutus available
Fairy Tales and Classic Stories:
The Railway Children by Edith Nesbit – Victorian chid costume available
Sherlock Holmes by Arthur Conan Doyle – Pipe, Deerstalker hat and magnifying glass available
Little Red Riding Hood – Pull costume available
The Big Bad Wolf from The Little Red Riding Hood – Ears available
Ice Queen – Full costume available
Sleeping Beauty by Charles Perrault – Full costume available
Captain Hook from Peter Pan by James Matthew Barrie – Accessories available
Cartoon Favourites:
Cat in the Hat by Dr. Seuss – Accessories available
Thing 1 and Thing 2 from Cat in the Hat by – Printed t-shirts and custom tutus available
Fantastic Mr Fox by Roald Dahl – Fox ears and tale available
The BFG by Roald Dahl – Ears available
Tinkerbell and other fairy characters – Costumes available
Dennis The Menace by Hank Ketcham – Accessories available
Where's Wally? By Martin Handford – Accessories available
Horrible Histories Air Warden by Terry Deary – Full costume available
Horrible Histories Tudors by Terry Deary – Full costume available
Miscellaneous:
Space Boy – Full costume
Doctor – Jacket available
Superhero – Cape available